1.

99.9% Positive Feedback on eBay, with over 128,000 feedback and counting!
2.

4.8 out of 5 stars on Amazon - over 9,960 transactions resulting in satisfied customers.
3.

We do everything possible to ship your order the same day you place it.*
*By 12:30pm PST Monday-Friday and 11:30am PST Saturday, if all items are in stock.
4.

ALL of our items are AUTHENTIC, with the Manufacturer of each clearly indicated.
For example, our Magpul line is GENUINE OEM, having been verified by Magpul's Legal Department.
5.

We make every effort to respond to EVERY customer inquiry, and will provide SUPERIOR, PROFESSIONAL and COURTEOUS service.
Please feel free to contact us today!
To everyone at Nimrodswares,

I just wanted to express my gratitude towards your team and how quickly and professionally you handled my issues. In a world where customers get lost in all the commotion of online commerce, it was refreshing to deal with your company. You're willingness to quickly and decisively rectify my situation, which I will admit was entirely created by mistakes I made (choosing the wrong address and misunderstanding the listing), was incredible, and in my opinion, above and beyond.

I am grateful for the quick resolution, and makes me feel like you guys truly care about the individual customer. I will never hesitate to do business with your company again, either on Ebay, or through your website. Good customer service is hard to find these days, and you seem to have it in spades. Thanks again for your patience and fast response.

Best Regards,
Jeff B.
Thank you. I am impressed with your company and your quick responses and great customer service. You go above and beyond. Thank you.

Please forward to your manager as I really appreciate your assistance!

A. K., North Carolina
I just wanted to compliment Nimrod's on the great experience I had purchasing recently.

I placed my order late

Friday

night, around

7PM

, and was surprised to see that when I got up

on Saturday

, my package had been shipped. I received it today in the morning [

Monday

], smartly packaged in a small padded envelope just big enough for the two magazines (no wasted space, other retailer could learn from this example!), with the magazines in their factory boxes.

Thank you for this good experience! I'll be buying from you again!
I have ordered a number of UpLULA (9mm-45) Loaders from you thru Amazon.

Your Customer Service is exemplary.

I will be buying more Loaders in the future, so I will be buying thru your On-Line Store than thru Amazon from now on.

Thank you again for your amazing service

Dennis S.
Your service in fulfillment of this order was the most excellent I've experienced from any specialty vendor!

I ordered these items

Friday*

night and received them

Monday

... Outstanding!

Thank you,

Jim P.

*modified to correct order date

Talk about fast ship. Got it today and already wore it.

James T.
Magazines received today. Thanks for the very quick shipping and secure packaging. I will post positive feedback for you on eBay.


Best Regards,
Bruce B.
Sirs, Thank you very much for the great Binoculars. It is a nice surprise to find folks with a great attitude, and concern for the customers.


I will put them to good use, and am sure we will do more business in the future. I am sure my friends will be impressed with them and your firm.


Have a great week out "in the warm CA sun".


Thank you again,
Michael J.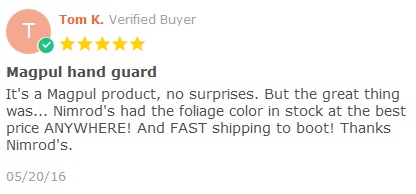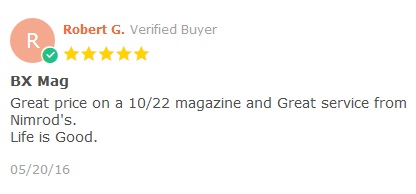 | | | |
| --- | --- | --- |
| | My order was received in most timely fashion. Very happy with the large green uni grip I intended for and installed on my Kel-tec KSG. Warmed it up well as recommended and it fit just as though it were made for it. Works and looks great. Thank you much. | |
★★★★★ Highly recommend doing business with nimrodswares3927

I just wanted to thank you for doing business with me it was very fast delivery and I m very satisfied with the item ruger 380 lcp extended mag

Dwight A.
Team,

I received the two magazines for my spousal unit's Browning 1911-22 today* ... I placed the order on 26 May 2016 ... needless to say that I did not expect to see them so soon ... I will now be able to get her off my back (I have five mags and she only had three) ... she is now a happy shooter ... !

Thank you very much for treating this extremely small order with the importance that I put on it ... you will definitely be hearing from me in the future.

Bob S.

*May 28th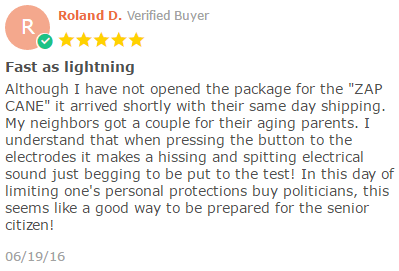 Thanks for shipping. Hey i wanted to say, this thing is for my ksg. I had gotten a chinese clone of the rsa magpul logo n all on here* about 3 mnths ago. I try not to do that but i figured its a slingpoint, red loctite in n forget about it. Well i was sizing my top rail n moving stuff around to add an mro the other day n i had to take off the clone. A combination of the loctite i believe n being a clone stripped the female end. I would plumbers tape it if it was my 22 but a ksg loaded with 00buck is heavy as crap... so i threw it away n ordered a real one from you. Lol

Just wanted to say that,,thought you might get a laugh or a smile. When i got into guns a few years back not knowing the difference in metals n such i ordered from china a lot. This rsa clone was my last unreplaced chinese piece.
Ha!!! Done!!! ;-) thanks again, zach

*Amazon.com
★★★★★ Awesome deal, great communication. Super eBay seller. Super fast shipping.

---

Thank you so much for the super fast shipping on this item, I just received it today and you guys are great. I tried to leave another feed back but I guess because I bought one back in May from you the feedback I left then is covering. Thanks again and I will be purchasing more from you.

Douglas H.
I just have seen that the replacement items have been shipped and I thank you for your dedication to your customers! You definitely won my support as a loyal customer and will I be looking to you first and foremost for all my eBay needs! Thanks again, I really appreciate it!!!

Damien E.
Thanks again, great place to shop, and I keep telling folks about you.

Mike J.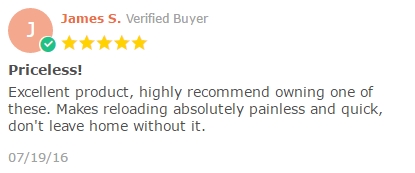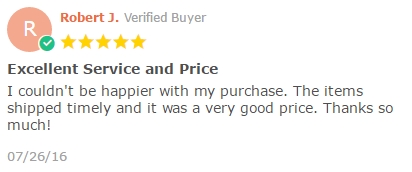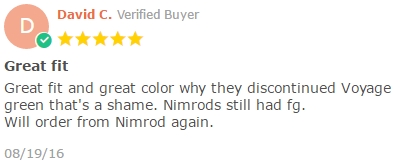 As you can tell from your records I have used your business many times. Every time I am amazed at the old time service. Unusual for a business this day and age to have such fine work ethics. I come from a time when the grocer would walk me half way home to make sure I was OK because my da was in Europe and many of those young men did not return. It was a treat for the ice man to pull out a block of ice and chip it up for the kids in the neighborhood. Outstanding and I will try and be more careful.


Thanks.

Michael S.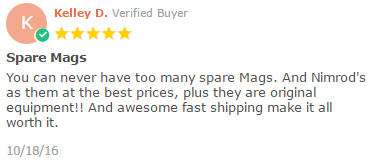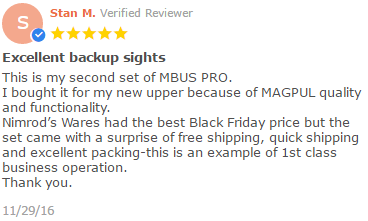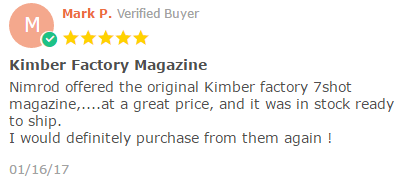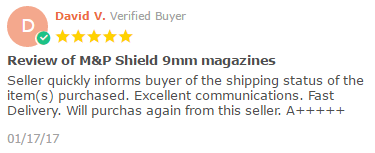 The stock arrived this afternoon. I have installed it on the 10/22. It gives me exactly the fit I need on this rifle.


Many thanks for a top-notch, super easy transaction.


I have a feeling that we will do business again!

Willard P.

To Whom It May Concern:

I just wanted to give you guys a giant thumbs up for how you do things. I have a shooting class tomorrow that I needed my recent order of two M&P 45 Shield 7 round magazines for. I ordered them late last Friday night hoping they would ship Saturday. I am in central Illinois so I was a bit concerned as to how long the USPS might take to deliver from California through regular first class mail. Due to your change in policy of only shipping to the billing address you guys contacted me & the order didn't ship out until Monday night. I received the order yesterday [Thursday]. A big thank you to you guys & the USPS! I have ordered stuff from you guys a few different times through Amazon, eBay, & directly from your website. Your prices are some of the lowest I see & free shipping is awesome. I will definitely keep you guys in mind for future needs. Keep up the great work!

Thank you,

Brian E.


Hi, just want to say you guys r great to purchase from I have purchased numerous items from you guys and you people r second to none in service .thank you.

Charles J.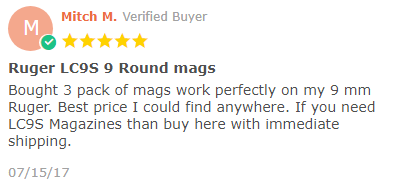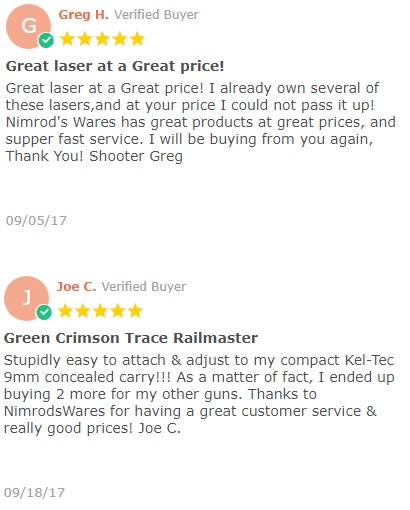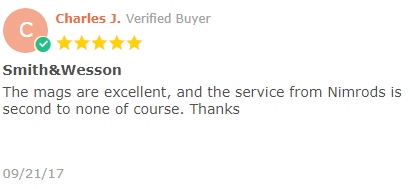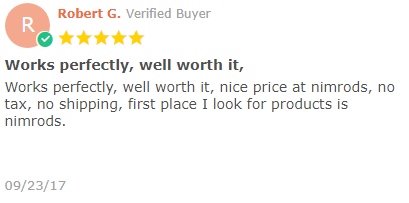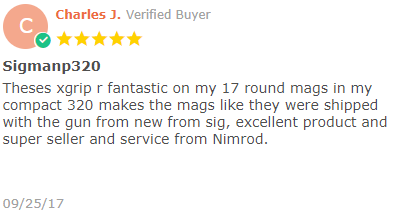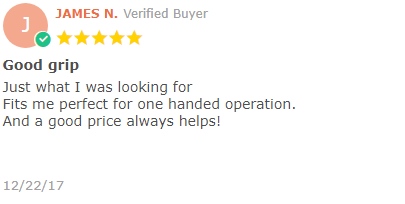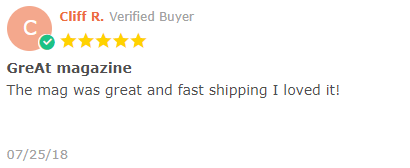 Hello,

I was recently shopping gunbroker.com, when I came across some rifle parts I was interested in purchasing from Nimrod's Wares. Due to my device's outdated OS, I was unable to register an account with GB so I decided to try to make my purchase directly through NimrodsWares.com. It was at this point I noticed a price discrepancy between the two sites. I figured I'd try to contact a customer support person at NW to see if it was possible to receive the GB rate. I was totally shocked that not only did I received a answer in less than 2 hours, but was offered the price I was looking for and received a very coherent and honest answer as to why this discrepancy exists (shipping/handling built into price structure). I decided to call my order in instead of ordering online due to the pricing change to ensure the order was processed correctly. Through small talk with NW employee Dawn, I realized it was in fact her who answered my original email. Dawn is exactly the type of person I would like representing my company. She was extremely helpful, didn't rush me and even assisted me in finding another part I thought was unavailable, to add to my order. I will definitely come to your online store 1st in the future for my sporting good needs. The combination of your excellent prices with above and beyond type customer service from team members like Dawn, is a slam dunk in my book.

Thanks again!!

Chris S.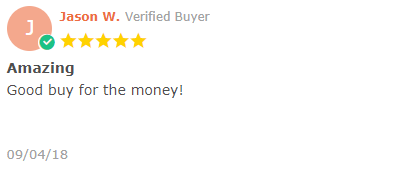 Thank you for your EXCELLENT FAST SERVICE.

Mike S.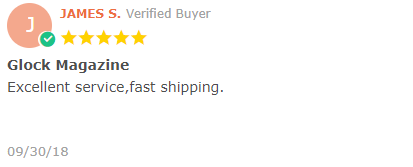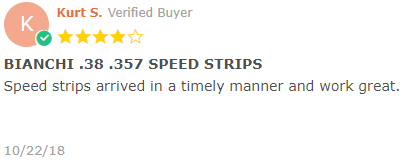 5 Star Positive Feedback was left & I noted the early Magazine issue in the narrative. However afterwards I felt I should've only focused on the way you handled this issue for me (sorry). As your immediate responses & willingness to help was fantastic!

I would like to point out that we've been on eBay since April of 2003 & you are the first Seller that I've "saved" in Favorite Sellers. From here on out I'll always check your Store first for gun accessories. To have that high a level of Customer Service today is nearly unheard of....THANK U

Warren & Keri B.
| | |
| --- | --- |
| | The Sig Sauer Romeo 4m I ordered from Nimrods Wares arrived on time just as they said it would. I am extremely impressed with Nimrods Wares shipping services and a definite customer satisfaction mindset. This is an excellent team/group to do business with. I will absolutely continue my business with Nimrods Wares. Great online shopping experience. Thank you Bob G |
| | |
| --- | --- |
| | Thank you so much; this has seriously been the best customer service I have ever had in my 42 yrs of living! I know where I will be shopping from now on! |
Dear Team,

Been ordering from EBay a long time and you guys have had some of the best service to date.

Thank you - new loyal shopper!
AC
Yes I got it thanks. That was fast in l am definitely buying from you again

-2.........
Thank you for the fast delivery and price keep up the great work

-Chad C.